The Carolina's Party Station, with Dex & Barbie T in the Morning, coming to you live out of Greenville, SC!
Here are some frequently asked questions and answers!
How do I CALL to enter a contest, make a request, get a shout out?
Call us on the studio line at 864-421-9810!
How do get a COMMERCIAL for my business on the air?
Find out about radio advertising here! We can offer SO much more than just commercials, from digital marketing to event execution to social media to branding!
How can I get a JOB at the radio station?
We're hiring! Here are our current open positions. Take a quick survey to see if you have what it takes to join our Sales Team! A great place to start (no matter where you want to end up) is on our street team, because you can move up quickly. A lot of (if not most) radio careers are started by popping up tents and handing out t-shirts (including near 100% of our current on-air staff)!
Do you have INTERNSHIPS?
Yes we do, in EVERY DEPARTMENT, including on-air!! Find more info here. Please note: internships are unpaid, they are available to college students only, and you must receive course credit to qualify. If you are a student wanting to job shadow for a day, please contact our office manager here.
How do I get the station to COME TO my event or location?
Two choices: You can purchase a remote broadcast or a station appearance by contacting our sales department here.
OR you can also submit a request for community events here (please note: due to the volume of requests we receive, we cannot make it to everyone's event).
Can I send you MY SONG to play on the air?
Sure, you can send it to us. Please note: we are a Top 40 radio station, so we play hits that are already ranked highly on the music charts. If your song is in the top 40 spots on the charts, we're already playing it. If it isn't there just yet, you've got some work to do. (TLDR: sending in your song does not mean we will play it.)
I won a PRIZE, how do I get it?
Call us first to make sure it's ready! Bring your photo ID and you can pick it up at the front desk, Monday through Friday from 9am to 5pm. We are located inside NOMA Tower (220 N Main Street) on the 4th floor, Suite 402, Greenville, SC 29601. (The entrance to NOMA Tower is on Main Street, next to Oil and Vinegar, but you can also park in Commons Parking Garage on Beattie St and take the 3rd floor breezeway into the Hyatt. Turn right, and the NOMA elevators will be through the double glass doors.)
Need to contact us for something else? Find all our info here.
Here's a list of features, contests and events you can find on our website!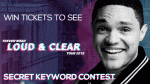 Trevor Noah is coming to The Well on March 22nd as a part of his Loud and Clear Tour, and HOT 98.1 has your...
Read More