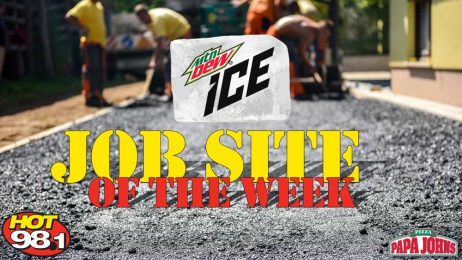 HOT 98.1 and Mountain Dew Ice want to reward the hard-working men and women with outdoor jobs, because the Upstate of South Carolina – not sure if you're aware – gets REALLY HOT in the summer. So, thanks to the all-new Mountain Dew Ice and Papa John's Pizza, we're bringing you the HOT 98.1 Job Site of the Week Program!
Here's how it works:
You tell us where and when your crew is working this summer
We'll draw a winning Job Site at random
The HOT 98.1 Street Team will show up with pizza and a cooler full of Mountain Dew Ice!
**Please note: we get that construction zones are not for mere civilians such as ourselves, so if there's anything important about the delivery location regarding safety, please let us know in the notes section of your entry!**