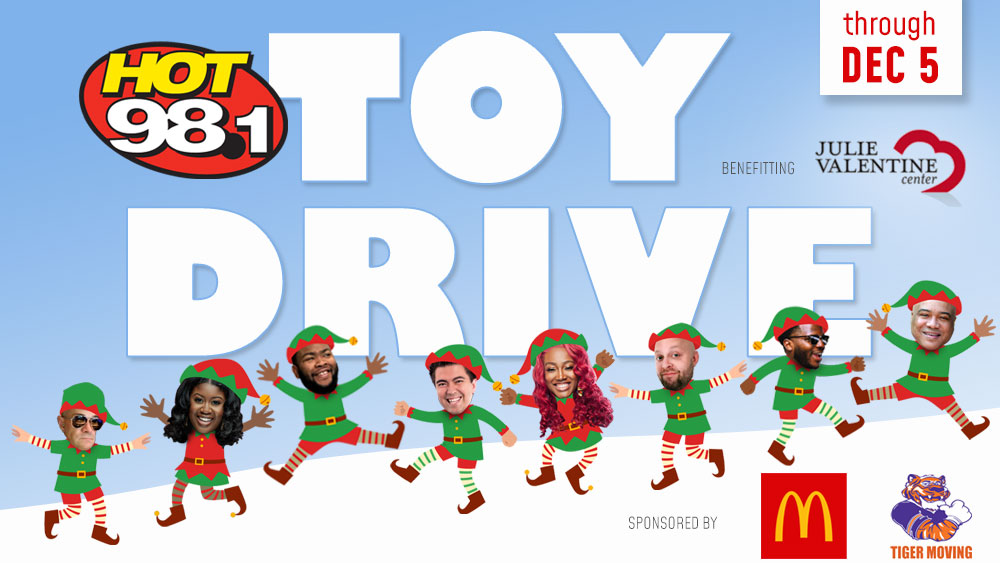 For our Toy Drive this year, HOT 98.1 has partnered again with Julie Valentine Center (a nonprofit organization that provides free, confidential services to sexual assault and child abuse survivors and their families). And we need your help more than ever! The pandemic has caused financial hardships, anxiety over health concerns, and a disconnect from support and community, all of which are major contributing factors to an increase in abuse and violence in the home.
That means the Julie Valentine Center will be of vital importance to even more of our friends and neighbors.
YOU CAN HELP! It's as easy as 1… 2…
That's literally it. Just 1 and 2. See how easy?!
1: Choose a gift from the Julie Valentine Center's Most-Requested Items, below.
2: You can buy it straight from their Amazon Wishlist (it ships directly to the JVC) OR bring your new, unwrapped gift to one of our live broadcast Toy Drive Collection Events:
Benefitting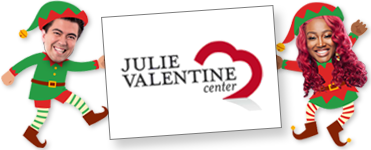 Sponsored by
JVC's MOST REQUESTED ITEMS
Baby/toddler clothing and accessories (NOT diapers)
Boy/girl clothing of all sizes
Books for all ages
Dolls, including minority/ethnic dolls (ie: African-American, Asian, Hispanic)
Board games, card games, and puzzles for all ages
Arts & Crafts supplies/kits for all ages
Clemson, Carolina and Panthers items
Tablet/handheld games, headphones or earbuds
Duffle bags, backpacks, tote bags
Gift cards from places like iTunes, Target, Amazon & the Mall (or for things like clothing, books, and restaurants)
Toys for all ages:

building toys like Lego sets, engineering kits, and blocks
manipulative toys like play-doh and kinetic sand
creative toys like art supplies, jewelry-making, or crafting kits
cars, trucks, trains
balls, outdoor toys, bikes
pretend play toys like dress-up costumes, play kitchen

Items for Teens:

books, journals, writing pads, colored or decorative pens, adult coloring books with colored pencils, arts and crafts kits, stress balls
scarves, gloves & hats, fleece blankets, comfy or fuzzy socks
costume jewelry, purses, make up, make up bags, nail polish & manicure sets, flavored lip gloss, hair accessories
soap, bath gel, scented body spray, lotion, lip balm, hair products, hand sanitizers
all types of batteries, handheld games, earbuds and headphones
board games, card games, puzzles for older kids
Footballs and basketballs
Clemson, Carolina, or Panthers items
gift cards from iTunes, Ulta, Sephora, Bath & Body Works, Target, Amazon, the Mall, or for clothes, books, restaurants
PLEASE consider donating to this year's Toy Drive, and help us show these families some love! An increase in abuse and violence leads not only to devastation of an individual or a family, but to an entire community. It can lead to a higher risk of substance use, depression, post-traumatic stress disorder, chronic disease, and other ailments that can have an adverse affect on everyone. We are counting on you to help make this year a success! THANK YOU!
– The Team at HOT 98.1

Justin Tyme, Karina, Ant Dizzle, Dex & Barbie T, Jeff Lewis Neal, BMan & Maurice DeVoe