Welcome to the Dex and Barbie T Morning Show on HOT 98.1! Dex and Barbie T will all have you laughing, keep you informed,...
Read More

Maurice DeVoe is on-air Mon-Fri from 3pm-7pm! Moe Devoe is new to Greenville, SC and looking to getting out and enjoying everything it has...
Read More

You can catch Ant Dizzle on HOT 98.1 every weeknight from 7pm to 12 midnight for the NIGHTTIME TURN UP!...
Read More

I came to Greenville from Buffalo, NY, and I'm SO excited to no longer have to deal with crazy amounts of snow.  People say...
Read More

It's the Saturday Night HOT Mixx with DJ Grooves, every Saturday from 8pm to 12 midnight!...
Read More

HOT Topics with Rhonda Rawlings is on the airwaves every Sunday morning. It's a series of in-depth interviews and discussions focuses on civic events,...
Read More

Every Sunday morning from 7am-10m, tune in to hear Nick Cannon as he counts down the top hits of the week on Cannon's Countdown!...
Read More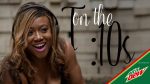 Barbie T gives you the Tea at 10 minutes past the hour, every weekday morning from 5am to 10am! T on the :10s is...
Read More