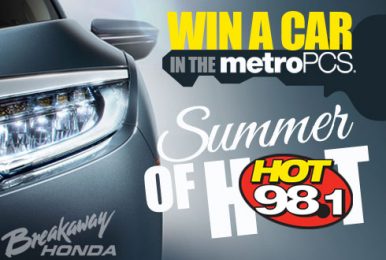 HOT 98.1 has partnered again with MetroPCS to give away a 2018 Honda Civic! It's up for grabs in the MetroPCS Summer of HOT Car giveaway! Thank you to MetroPCS, and our sponsors: Breakaway Honda, The Blood Connection, V Tire and Wheel, Quiver Full Adoptions, and FOX Carolina!
The final giveaway event will be held in August. All key winners must attend the final giveaway event for a chance to win the car!
HOW TO WIN A KEY
There are FOUR WAYS to win a key that might start the 2018 Honda Civic from Breakaway Honda:
LISTEN TO WIN! Dex and Barbie T will announce the on-air contest times at 7:10am each morning. When you hear the cue to call, be the 9th caller to 864-421-9810 to win your key! (You can also watch FOX Carolina 'The Morning News'!)

TEXT TO WIN! Text HOT CAR to 67129 to enter.

SELFIE TO WIN! Take a picture with the Summer of HOT car, and post it on your personal Twitter account with #HOTcar and tag us @hot981

REGISTER TO WIN! Come to our upcoming Key Stops and put your name in the drawing!
After all 198 keys have been given away, all the key winners are invited to our grand finale, where they will try their keys one by one until we have a winner!
UPCOMING KEY STOPS:
| | | | | |
| --- | --- | --- | --- | --- |
| DAY |  DATE | TIME | LOCATION | ADDRESS |
| FRI | 6/22 | 12 – 2PM | BLOOD CONNECTION | 341 Old Abbeville Hwy, Greenwood |
| FRI | 6/22 | 4 – 6PM | METROPCS | 146 Walnut Ln., Travelers Rest |
| SAT | 6/23 | 1 – 3PM | METROPCS | 3023 Wade Hampton Blvd., Greenville |
| SUN | 6/24 | 12 – 2PM | V-TIRE & WHEEL | 4511 US-29, Belton |
| MON | 6/25 | 4 – 6PM | WORLD FINANCE | 2500 Winchester Pl, Spartanburg |
| TUE | 6/26 | 12 – 2PM | BREAKAWAY HONDA | 330 Woodruff Rd, Greenville |
| WED | 6/27 | 5 – 7PM | HARLEY DAVIDSON GREENVILLE | 30 Chrome Dr, Greenville |
| THU | 6/28 | 12 – 1PM | THE LOST CAJUN | 3612 Pelham Rd, Greenville |
| FRI | 6/29 | 12 – 2PM | BLOOD CONNECTION | 270 N. Grove Medical Park Dr, Spartanburg |
| FRI | 6/29 | 4 – 6PM | METROPCS | 616 Poinsett Hwy, Greenville |
| SAT | 6/30 | 1 –  3PM | METROPCS | 570 W Washington St., Greenville |
| SUN | 7/1 | 12 – 2PM | V-TIRE & WHEEL | 4511 US-29, Belton |
Thank you to our sponsors: