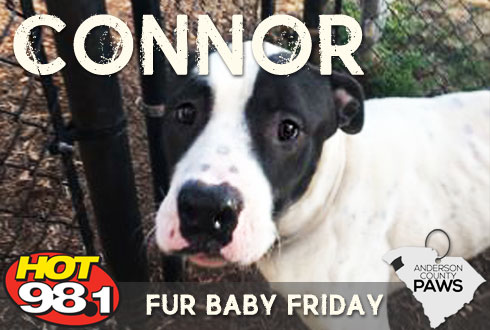 Hi. My name is Connor and I'm a two-year-old Retriever/Labrador Mix, which means YOU get the best of both worlds!

The retriever in me says RUN. The lab in me says SLEEP (and maybe bang my tail against stuff).
So I can fetch (but also lounge) and swim (but also sit). I'm even two colors: black and white! I've improved my leash manners so much, my trainer thinks I could learn anything! Up next: not jumping. That one's tricky, but I'm getting the hang of it.
I really really LOVE:
Playing outside but also cuddling
Being happy but also sleepy
Snacks but also running
From the hoomans: "Connor is a happy boy that is learning to keep four on the floor. He will sit and look at you for a treat. He likes to choose his doggie friends, so a pre-meeting with any other furry pals would be recommended. He loves to spend time outdoors! Come on out and enjoy this spring weather with Connor."
As always, all of Anderson County PAWS' adoptable animals are vaccinated, microchipped, spayed or neutered, de-wormed, treated for fleas, and tested for age appropriate behavior – so they're ready to come home with you right away!
To find out more about this fur baby or any of our adoptable animals, call Anderson County PAWS at (864) 260-4151 or visit Petango!