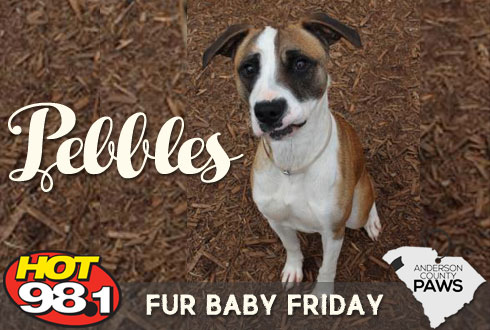 Um hi, I'm Pebbles… is this where I write stuff? Oh.

I love hanging out with my friends, whether they be two- or four-legged. I love being pampered, getting massages, and having my hair done. (Right now I'm rocking this ombré bronde that my groomer suggested – she saw it on Pinterest, I think it suits me.) I'm super-into playtime, but I also need my naps. Sounds like you and me should hang out and see where it goes.
From the staff: "Pebbles is a sweet girl! She loves toys and scratches behind the ears! She gets along with other dogs, and would love to have a doggie friend! Please come meet this sweet girl and give her someone to love!"
As always, all of Anderson County PAWS' adoptable animals are vaccinated, microchipped, spayed or neutered, de-wormed, treated for fleas, and tested for age appropriate behavior – so they're ready to come home with you right away!
To find out more about this fur baby or any of our adoptable animals, call Anderson County PAWS at (864) 260-4151 or visit Petango!