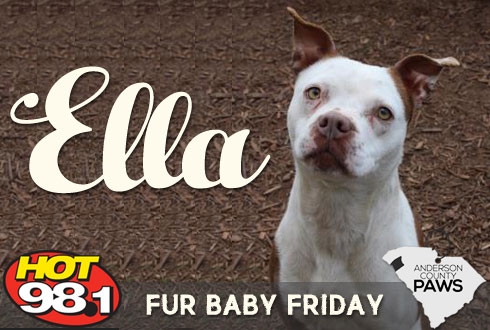 Hey, everybody! My name is Ella. I'm three years old, and I really, REALLY want to be your friend!

(So maybe if you read some stuff about me, you'll wanna be my friend too!)
I like:
Sharing toys with my friends
Having a snack at snack time
Playing outside
Laying down and cuddling with a friend (like maybe you!)
Being a good girl
I want to run in the grass and cuddle and chase rainbows and give kisses for the rest of my life! Don't you?!
From the staff: "Ella is the sweetest little girl I've ever seen! She loves treats and playing with her doggie friends! Please come meet this sweet girl and give her a spot on your sofa and in your heart!"
As always, all of Anderson County PAWS' adoptable animals are vaccinated, microchipped, spayed or neutered, de-wormed, treated for fleas, and tested for age appropriate behavior – so they're ready to come home with you right away!
To find out more about this fur baby or any of our adoptable animals, call Anderson County PAWS at (864) 260-4151 or visit Petango!