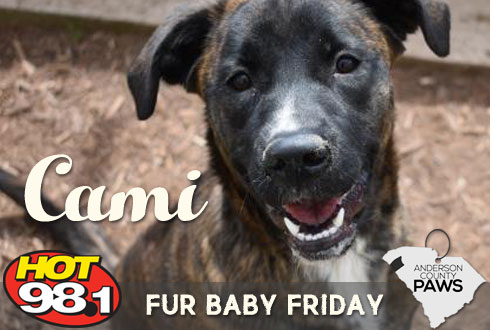 Hi-hi my name is Cami and I'm one years old. So far I've heard peeples here describe me as beautiful and sweet. I don't know what words mean, but I'm pretty sure those are good ones.
I can be a little scared sometimes when I first meet you but if you pet me and play with me, I'll see that you're a nice peeple. If you have a stuffed animal or toy, we could share and play fetch. I like fetch.
I have a pretty coat, and you can pet it if you want. The peeples here call it "brindle" and I don't know what that is, but everybody wants to touch it. I like most other dogs as long as they give me a chance to say hi, but I'm kinda small so sometimes the big ones do me a scare. I would really like to come over to your house and play, and then stay there forever and ever, okay? Okay.
As always, all of Anderson County P.A.W.S.'s adoptable animals are vaccinated, microchipped, spayed or neutered, de-wormed, treated for fleas, and tested for age appropriate behavior – so they're ready to come home with you right away!
To find out more about this fur baby or any of our adoptable animals, call Anderson County PAWS at (864) 260-4151 or visit Petango!