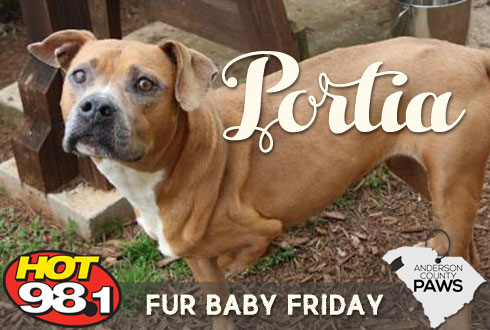 My name is Porsha and I finally found someone to look past my imperfections!!
I've been described as sweet, laid back, and loving. I know a lot of dogs that want to run all day, but my happy place is sunbathing on a pillow. I still love to play and run, but cuddles are more my speed. Because my front arm doesn't function properly, some folks see me as damaged, but they don't really see Me. Give me a chance to prove to you that – even on three legs – I can jump right into your heart.
From the staff: "Porsha is a sweet girl. She loves laying on her bed looking out the window at the people who come into the shelter. (She is in our glass lobby so she gets to sit around and sun bathe.) Porsha has a leg that is folded up kind of like a wing (so her nickname is 'Chicken Wing' or 'Chicky' for short). The leg isn't able to function properly, but that doesn't stop her… she is still full of joy and love! Porsha is eagerly awaiting her forever home!"
As always, all of Anderson County PAWS' adoptable animals are vaccinated, microchipped, spayed or neutered, de-wormed, treated for fleas, and tested for age appropriate behavior – so they're ready to come home with you right away!
To find out more about this fur baby or any of our adoptable animals, call Anderson County PAWS at (864) 260-4151 or visit Petango!