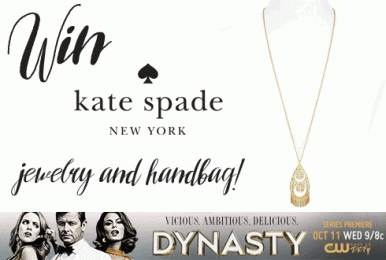 Would you survive on the new CW series Dynasty? If you think you could handle it, you might win one of several Kate Spade necklaces, and even a beautiful Kate Spade handbag!
Two ways to win:
Listen to HOT 98.1 each weekday morning. On Tuesdays and Wednesday mornings, call in and answer a Dynasty-style etiquette question (like: is it proper to text a thank you note instead of hand-writing it?) to win a beautiful Kate Spade necklace!
Enter your name below to be in the grand prize drawing (along with the necklace winners) for the Kate Spade Handbag!
Tune in to watch Dynasty, the series premier at 9PM on Wednesday, October 11th on the CW!