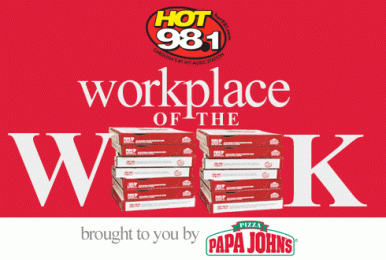 There IS such a thing as a FREE LUNCH and HOT 98.1 wants to prove it to you! Nominate your J-O-B as the Workplace of the Week, and if you win, one Thursday, we'll bring a bunch of delicious (and FREE) cheese and pepperoni pizzas for your workplace (we can feed 14-15 people, but we won't judge if you keep it all to yourself)!
Simply enter your details below to register your workplace. If you win, we will call to arrange your delivery.
(This contest is restricted to deliveries in and around the Metro Area of Greenville, SC, including the counties of Greenville, Spartanburg, Anderson and Pickens, and the immediate area around each. Sorry, no residential deliveries.)
It's the HOT 98.1 Workplace of the Week, presented by Papa John's Pizza!
Good luck, and thanks for listening to HOT 98.1!