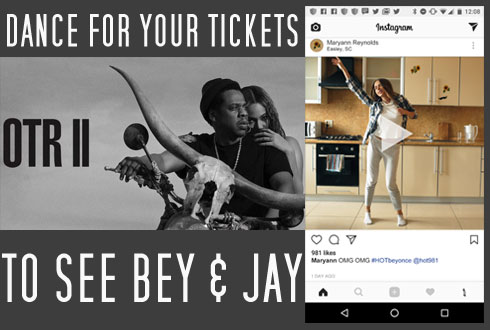 HOT 98.1 has a pair of tickets to see Beyoncé and JAY-Z at Williams-Brice Stadium, Columbia, SC, on August 21st, and we wanna see you slay for this giveaway to see J and Bey!
 All you gotta do is DANCE and POST it!

Here's how to enter:
Film yourself dancing to your favorite Beyoncé song
Post it to your personal Instagram account
Use the hashtag #HOTbeyonce and tag us @hot981
That's it!
TIPS:
Make sure you tag us and use the right hashtag or we won't see your entry.
Make sure your account is set to public or we won't see your entry.
Make sure you follow us Instagram so we can easily message you if you win!
Only one entry per person. Multiple entries will not be considered.
Accounts created just for contesting will not be considered, it must be your actual IG account.
Now that you know – GO! Film your dance, do it for the 'Gram (and the tickets)!
Good luck, and thanks for listening to HOT 98.1!