HOT 98.1 always has you covered when it comes to giveaways & prizes! Whether it's tickets to the best concerts & events, movie premiers, gift cards to your favorite restaurants and retail locations, or STRAIGHT CASH HOMIE – you can always get the hook up with HOT 98.1!
To participate in on-air contests, call the studio line at (864) 421-9810. Here's what we've got coming up:
10/24-10/28
Listen all week long and win a pair of tickets to see  Kanye West Live on December 9th at the Colonial Life Arena, Columbia SC!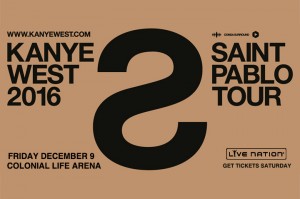 HOT 98.1 wants to give you a hundred bucks or more, if you can guess the Secret Sound! Listen every weekday for the Secret Sound Contest at 7:10am, 11:10am, 4:10pm and 5:10pm. Be the ninth caller at